We can tell if students are spending too much time on tricky questions. We can also tell if students are skipping questions they believe they can't do.
We tend to blink less when deeply focused on a task. By measuring blink rate, we can get clues as to whether students are focused (or not) on their tests.
We can see if any specific type of problem is giving your child anxiety and how they react to that anxiety.
Does your child go back to reread the passage when answering reading comprehension questions? Are they checking their work at the end of a section? We can tell.
We cross-reference all of these metrics. You no longer have to guess whether a student is checking their work. You don't have to guess why they struggle with timing. We can answer all of these questions.
Only Biometric Edge uncovers the

four

most common score-killing mistakes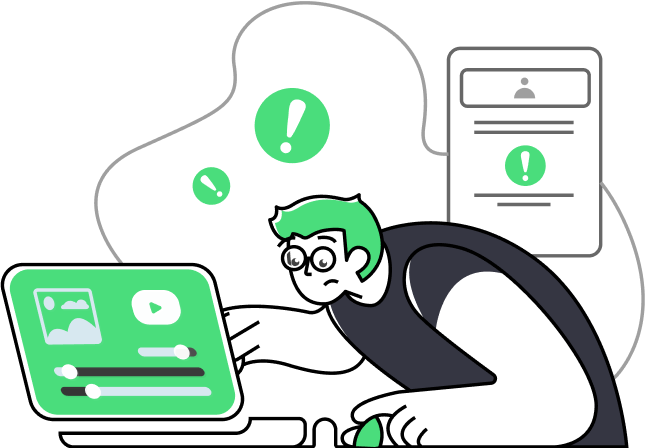 Letting Anxiety Distract Them
Learn how to address these issues in our free guide
We measure performance by topic, by level of difficulty, and by section, so you can see exactly where your child needs to improve.
Time per question and average time per question
We show how much time your child spends on each question and the average time spent on that question by everyone who's taken that exam.
The student above answered question 23 correctly, but it took them over two minutes longer than the average time. They need to review this question. They answered question 19 correctly, too, but they clearly guessed, and they should review this question, as well.
We give parents and students a chart that shows pulse and blink rate, each time a student answered a question, and each time they went to a new question. With this chart, we can locate poor time management, like in the example to the right. Students shouldn't spend so much time on a question in the middle of a section. They spent way too much time on number 15, and it left them little time for the rest of the questions and killed their score.
We track whether students reread reading passages when answering questions. We can see that this student didn't reread numbers 10-12 and got them all wrong.
\In the first picture, the student answered the last question with 10 minutes left in the section and didn't do anything else. This student needs to check their work. In the second picture, we see that the student went back through the questions and checked their work.
We measure pulse to see if students are getting anxious and how it affects them. In the example on the left, the student is clearly nervous, as their pulse is going up and down. However, they did well, and they be confident that their anxiety isn't hurting them. Only Biometric Edge can show you and your child the data they need to boost their scores and get into great high schools and colleges.
We've been helping students get into their dream schools in one of the most competitive test-taking markets in the world for over 20 years. We have the experience and expertise to help your child succeed.
I gave my students a Biometric Edge exam, and I was blown away by what it showed me. My students were NOT checking their work. I confronted them with the proof and they admitted it.
On their next test, they all checked their work. I would have never known this without this tool. I recommend Biometric Edge with complete confidence.
Chris Kent, test-prep tutor, Brooklyn
Biometric Edge showed me what I was doing wrong. I had no idea. It helped immensely!

G.R., SAT student, Manhattan
WOWOWWOWOWOWOWOOWOWOW. Blown away.I'm so happy. THANK YOU.
L.V., parent of ISEE student, Manhattan
Help Get Your Child Into Their First-Choice School
You will receive a write up covering the following areas:
Right and wrong answers
Adjusted score
Strengths and weaknesses report
Eye tracking
Pulse rate
Time spent per question
Video tracking
Purchase 2 exams to see how your child improves across time.

You will receive all metrics listed in the Elite Package for each test.
Exam with 1-hour Consulation
You will receive everything in our Elite Package, plus a 1-hour consultation with a test prep expert. We will go over your score and provide you with detailed information you may have missed, plus a roadmap for success, including study-material recommendations.